It's World Rhinoceros Day!
World Rhinoceros Day is celebrated on September 22 each year. Let's take a moment to learn about these impressive animals and the threats they face. Rhinoceros are at risk of extinction throughout their range, especially from poachers who hunt them for their horn with the false belief that it has medicinal qualities.
Free Rhinoceros Coloring Page
Download your free high-resolution Rhinoceros Coloring Page. As an artist and environmental educator, I enjoy creating resources to help educate youth about wildlife conservation issues.
Feel free to DOWNLOAD and print as many copies as you'd like to share with the children and students in your life.
Rhino Sketching Demo
In celebration of World Rhino Day today, I'm demonstrating how to sketch a rhino! So get a pencil and paper and learn about rhinos while you draw! You can download the Rhino Sketching Handout (below the video) to follow along with the tutorial.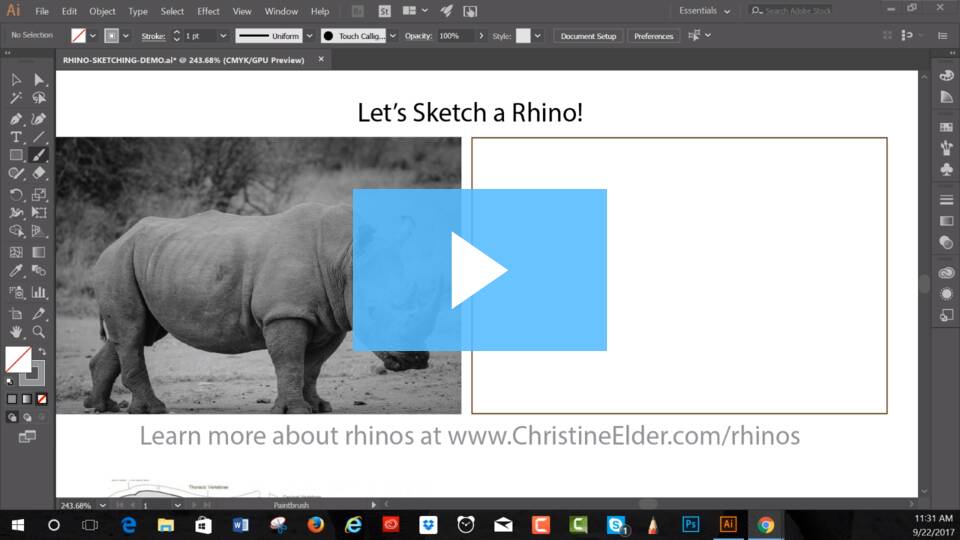 Soapbox – Sketching a Rhino for World Rhino Day
White Rhino Sketching Handout
Download your Rhino Sketching Handout to use with the above video tutorial.
Rhino Conservation and Education Organizations
Many dedicated individuals and organizations are working hard to educate the public, fight poaching, conserve habitat, rescue and rehabilitate rhinos and much more. Below you'll find a list of just some of the groups where you can learn more about rhinos and support their important work.
Click the links below to visit websites
Rhino Resource Center: Includes a comprehensive list of rhino conservation organizations
International Rhino Foundation
Movies About Rhinos
Many movie and documentaries have been made about the plight of rhinos, but their situation is changing so fast due to poaching, it's hard to keep current. For example, in 2016 over 1,050 rhinos were killed in the country of South Africa alone (statistics from Save the Rhino).
---
If you enjoyed this story and are interested in learning about other African wildlife, you may enjoy my story on Giraffes.